Nijoloy – 2 homes for rescued trafficked and orphaned girls and children of AIDS victims
Nijoloy' is an attempt to provide opportunities to young girl children of women in prostitution who are prone to trafficking, vulnerable girl children living in streets, lost, abandoned and rescued victims of trafficking to become self-reliant economically and helping them to develop confidence to live and work independently to fulfill their dreams. NIJOLOY, aims to provide basic services such as shelter, education, nutrition, health care, recreation, counseling, vocational skills(for adolescents), and recreational facilities.
Two projects of Government of India are running in this home – 'Swadhar' and 'Juvenile Justice (Care and Protection of Children) Act, 2000'.
Out of 94 girls, 52 girls are under Swadhar and 42 are under J. J. Act. 38 girls were rehabilitated in this year. 40 girls are school going, 1 goes to college, 34 girls are into vocational training in tailoring, block printing, jewellery making, baking, hand made paper bag making etc. 5 adult girls got married till date.
IMPORTANT VISITS

His Royal Highness, Prince Andrew, the Duke of York, visited Nijoloy home at Madhyamgram on 3rd May, 2012. Visit to Nijoloy was part of his trip to India who lauded the efforts of the residents of the home and vocational education and income generation centre. On his hour-long visit here, he was impressed with the inmates, who exhibited their skills along with other beneficiaries from the districts at embroidery, manufacture of leather products, designs on terracotta, and block printing on sarees. He said "I have sympathy and understanding for the enormous amount of work which you are doing, including the prevention of trafficking of young women. It is highly commendable, and I recognize the enormous value you are creating to the economy' – he told to the residents of the home and to the authorities. He watched a cultural programme performed by the home inmates followed by a short speech given by him. The programme ended with the unveiling of a plaque.
The Duke's visit was followed by the visit of Sarah Ferguson, the Duchess of York along with Princess Eugenie on 13.3.2013. They took a tour of the vocational training, which is bakery, hand made paper itmes, jewellery training, the tribal village products, seed jewellery, traditional hand embroidery (katha work), on silk, leather etc. followed by a film show on WIF's anti-trafficking and preventive approaches.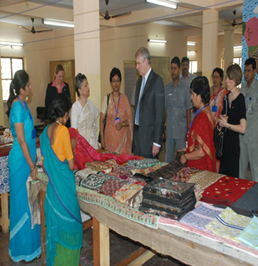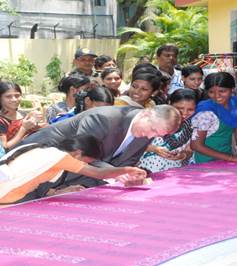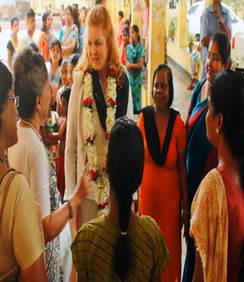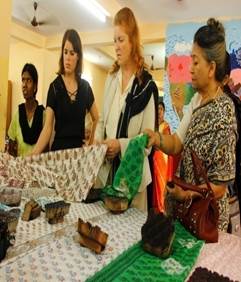 They experience details of the process of block printing, tie & dye and different new designs.
Nijoloy also experienced a gift from Made by Survivors, USA, Sarah Symons and John Berger and in memory of Ann Phil Symons and Tiffany Weston and family and a Boston friend for constructing second floor of vocational unit of Nijoloy, Madhyamgram. On inauguration of the floor by them, it is being utilized for production of bulk amount of tailoring products to supply order as per market demands.
Nijoloy Home, Jalpaiguri
Nijoloy Home in Jalpaiguri has 19 girls J.J.Act and 13 girls/women in Ujjawala. 9 girls are school going, 1 is enlisted in distance course. 10 girls learning beautician course, 9 learning jewellery making, 10 learning tailoring. One is differently abled child taught at the Home.
CHILD CARE HOME
The CHILD CARE HOME located at Salt Lake, Kolkata is for rehabilitation and mainstreaming of lost, abandoned, and trafficked girls from shelter homes under the Juvenile Justice Act. 2000 through education, skill training, employment and income generation at the CHILD CARE HOME. At present there are 63 girls.
A jewellery unit has been set up by Women's Interlink Foundation in collaboration with MADE BY SURVIVORS, USA. Around 15 girls are taking training and working in the unit at the home and earning handsomely.